Who else is involved in the payment cycle?
In addition, to the acquirer they are 4 other stakeholders involved in the payment cycle.
Acquirer
Cardholder/Customer
Merchant/Business
Issuer
Card Scheme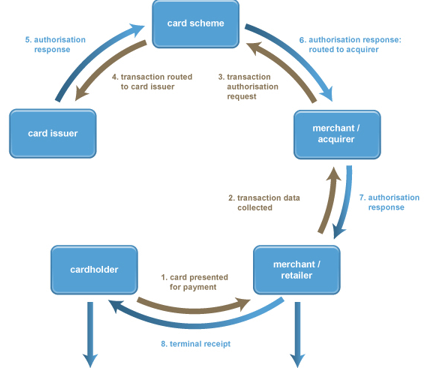 Cardholder
This is a person using a debit or credit card issued by a financial institution. Once the transaction has been processed, the card issuer will debit the transaction to the cardholder's account.
Merchant
A merchant sells goods or services to their customer (the cardholder). This can be face-to-face in a shop, where both the cardholder and their card are present, or when taking orders remotely e.g. over the phone for a restaurant take-away, a mail order from a catalogue, or a purchase over the internet. In this example, it is a card-not-present transaction.
The card transaction's details are entered into the merchant's terminal and are sent to its acquirer who will process the transaction and send it on to the relevant card issuer for authorisation and settlement.
Issuer
The issuer is the bank, building society or financial organisation that provides payment cards (debit, credit, pre-paid or charge card) to their customer or cardholder. The issuer has responsibility for transactions made on cards that they have issued, and will be responsible for debiting funds from the relevant cardholder's account.
Card Scheme
Card schemes are organisations that manage and control the operation and clearing of card payment transactions according to card scheme rules. The card schemes are responsible for passing card transaction details from the acquirer to the issuer and for passing payments back to the acquirer which in turn pays the merchant. American Express, Diners Club, JCB, Maestro, UnionPay International, MasterCard and Visa (including Debit) are the card schemes that operate in the UK.