Mobile Commerce - Payments in your pocket.
M-commerce isn't "the next big thing." It's already among the most important considerations for retailers and businesses of all types.
We are busy people. We shop on the go.
A recent report from indicates that only 4% of UK households do not own a mobile phone.
2008 was the year the smartphone took off in the UK. With the iPhone and Android fresh into the UK market, 17% of people owned a smartphone a decade ago. That has now reached 80% reaching as high of 95% among 16-24 year-olds.
This means the majority, of the population have got the ability to purchase unlimited products using the devices in our pocket and we're making the most of it with some reports suggesting that M-commerce will overtake E-commerce before 2023.
This claim seems to have substance as according to figures from Statcounter, as between January 2019 and January 2020 mobile traffic overtook desktop for the first time towards the back end of November 2019, potentially powered by Black Friday and Cyber Monday offers. Mobile traffic now accounts for 47.61% of all UK web traffic, with tablet traffic accounting for a further 6.82%. This means desktop now makes up less than half of web traffic, highlighting how imperative it is for e-commerce websites to be responsive and quick on all devices.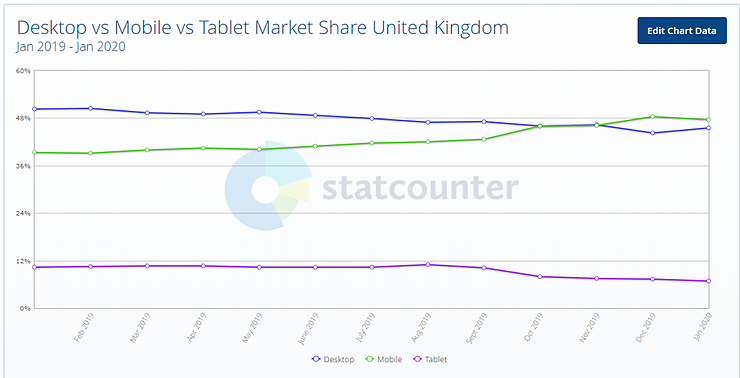 This then poses the question of how merchants should be handling other channels of engagements such a MOTO (mail order/telephone order) web-chat and social media platforms. If your customers are choosing a particular channel of engagement and are more than receptive to using their device to make a payment, why are some organisations still insisting that their customers 'channel hop' to another, often dictating their sensitive card details over the phone, triggering complex PCI DSS compliance issues, the risk of fraud related chargeback and often incurring additional charges with their
Acquirer
partner?
Our multi-award winning, digital payment solution, SOTpay enables merchants to accept, secure, authenticated, PCI DSS compliant payments across of host of channels, including telephony, whilst allowing the cardholder to complete the payment on their device, within their preferred channel of engagement, creating a great customer experience, whilst alleviating risk for the business.
If this is of interest for your business, then please reach out to our team on 01709 911 661 (option 1)