Because of the global pandemic, QR codes are everywhere the place at the moment. You may have spotted these little black and white squares outside your favourite cafe, in your favourite clothing retailer to help the government with their track and trace initiative.
The technology however isn't new. In fact, they have been around since 1994, where they were designed and used by a Japanese automobile company to track the progress of their production through the assembly line, but today, QR codes are now more being used more than ever in a number of different ways.
From 1994, Fast forward to 2017, when Apple's iOS 11 made it possible to read QR code using its standard camera app and Google added a QR scanning function to its Chrome search engine. Marketers jumped back on the bandwagon, using the technology to offer interesting, helpful and sometimes just fun marketing content through a QR code on a product or marketing material.
More recently, organisations such as Gala Technology have been using QR codes to aid remote payments, which have become ever more popular and required, throughout the COVID-19, global pandemic.
Merchants can use Gala Technology's multi-award-winning SOTpay, pay-by-link facility to generate a QR code, which can then be emailed, sent via SMS or attached to an electronic or hard copy invoice in seconds. Customers then simply scan the QR code to make a secure and compliant payment, without the need to disclose their sensitive card information.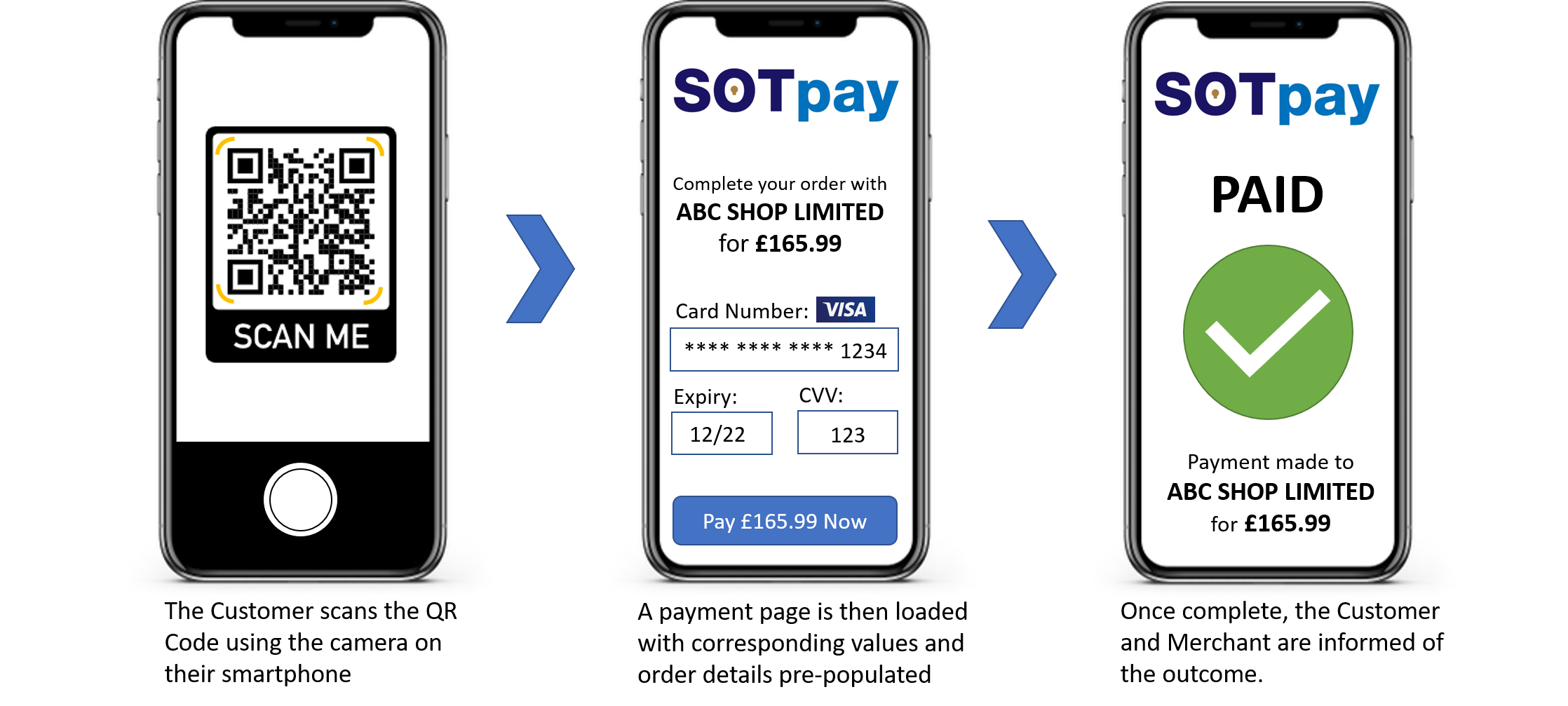 Traditional barcodes only carry horizontal information, whereas a QR code can store information both horizontally and vertically, enabling them to carry 100 times more information via their 2D- coding. Contrary to linear barcodes that can only be read by a laser barcode scanner from paper, QR codes can be scanned from both paper and screens. That is why you see QR codes in some online stores and apps.
That makes QR codes ideal for purposes like remote payments. Just provide a code that is unique to each customer the QR code guides them immediately to their pay screen without requiring additional information. This makes QR codes super-fast to use, hence why the likes of Gala Technology are seeing a surge in merchants looking to ask their customers to pay remotely using electronic and digital billing options.
It is no secret that 'contactless' and 'touchless' payments have become the preferred way to make and take a payment throughout the pandemic. There is no need for the guest to head to the hotel reception to pay their room bill, or for the waiter to head to the diners table armed with a chip and pin machine, just create the link and the customers simply scans a code and make the payment, with social distancing maintained and infection risk reduced.
It also enables business that have traditional taken payment over the phone to streamline operations and reduce cost. By sending the link out, the cardholder remains in control of their sensitive data, simplifying PCI DSS obligations. This also enables the merchant to ensure the transaction is authenticated, protecting them from costly fraud related chargebacks.
1. What does QR stand for?
QR code actually stands for 'Quick Response' code.
2. Are QR Codes new?
No. They have been around since 1994. The name is the trademark of a type of matrix barcode created for the Japanese automotive industry. It has since been used in many contexts, for instance marketing and information sharing, but it is also a popular way for people to make remote payments, especially since the Covid-19 pandemic started.
3. How do QR Codes work?
When a QR code is scanned, the horizontal and vertical patterns of the matrix are decoded by the software on your smartphone and converted into a string of characters. Depending on the command of those characters, your phone may open a browser link, confirm payment information, verify geolocation, among other operations.
4. How do I scan a QR Code?
To process a QR code, you need one either a smartphone or tablet with built-in camera or a barcode reader that can scan QR codes.
On an iPhone, support for scanning QR codes is built into the default camera app. Once you open the Camera app, select the rear-facing camera and hold your device in front of a QR code. Your smartphone will automatically recognise what it's staring at and generate a notification. Tapping that alert will send you to the website the QR code is linked to.
Most modern Android smartphones will have a QR scanner built into the operating system. If not, you can easily download a QR scanner from the Google Play Store – there are thousands of options to choose from.
5. What are the characteristics of a QR Code?
The QR code stands out with its three small squares placed in the lower and upper left corners and upper right corner. The overall code has a square shape composed of a matrix of small squares. The number of small squares per side can vary, e.g. 33 x 33 or 177 x 177.
The fewer the squares, the less information the code contains and vice versa for more squares. Because information is contained in two directions, it can hold a lot more data than a one-dimensional barcode. A QR code composed of 177 x 177 squares can, for example, contain 4,296 characters or 23,648 bits.
Since QR codes contain more data, they allow for encryption that is useful for payment processing.
6. How can Gala Technology support QR Code payments?
Our multi-award-winning, pay by link/QR Code solution, SOTpay is a cloud-based technology that does not require any additional hardware, totally eliminating the need for capital expenditure, SOTpay can support businesses of all shapes and sizes in any sector.
SOTpay, creates secure and compliant payment links and QR codes in a matter of seconds, enabling the merchant to send payments requests via email, SMS or into any digital engagement channel such as social media platforms.
The generation of QR codes enables businesses to also attach quick, easy and cost effective payment requests to invoices of either electronic or traditional paper nature.