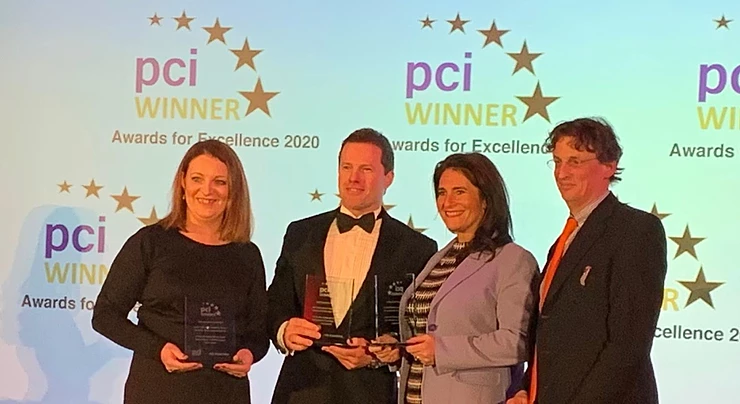 Left to Right: Leonna McGarry (Dalata), Jason Mace (Gala Tech), Candice Pressinger (Elavon), Simon Brady (AKJ)
For the second year running, Gala Technology, the specialist provider of secure payment solutions, has been presented with an award for its role in helping organisations simplify and meet the challenges of PCI DSS compliance.
The Yorkshire based organisation, who picked up a host of security and payments innovation accolades in 2019, started the new year in familiar fashion as they were awarded the 'PCI 2020: Award For Excellence' alongside leading acquirer Elavon and Dalata Hotel Group, the largest hotel operator in Ireland, after the judging panel concluded that their SOTpay technology had encouraged a proactive approach to scope reduction for
Card Not Present
transactions.
SOTpay enables businesses to process, secure, authenticated, PCI DSS compliant transactions across numerous channels of engagement including telephony, email, SMS and social media, without the need for costly and time-consuming hardware installation.
Gala Technology CEO Jason Mace, who collected the prize stated "Gala Technology are honoured to support Elavon and Dalata Hotel Group combat some of the challenges faced within the hospitality sector and we are thrilled at this accolade as a collective result of a job well done."
Leona McGarry, Group Systems Training & Standards Manager, Dalata Hotel Group concurred: "SOTpay simply benefits everyone. Our customers benefit from greater security, no longer providing their card details to our organisation, and we benefit from PCI DSS compliance, better security for card payments, reduced risk of fraud related chargebacks, no shows and late cancellations. The dashboard is simple to use, requires very little training, and the team at Gala Technology were excellent throughout the implementation and the ongoing support process."
Steve Biggs, CTO, Gala Technology also congratulated Elavon's involvement. "Elavon are committed to protecting customer data with the latest cybersecurity technology to support PCI DSS certification, they proactively work closely with their clients and channel partners to deliver complete safety and security at every stage of the payment journey."